The 2022 Subaru Love Promise Customer and Community Commitment Award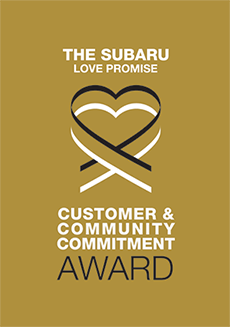 We've been nationally recognized for our dedication to our customers, our community, and the Subaru Love Promise.
We're honored to receive the 2022 Subaru Love Promise Customer and Community Commitment Award. This award nationally recognizes elite Subaru retailers who provide an exceptional customer experience at every interaction with Subaru. These retailers have also demonstrated an outstanding commitment to supporting passions and causes in their local communities in important areas such as the environment, community, health, education, and pets.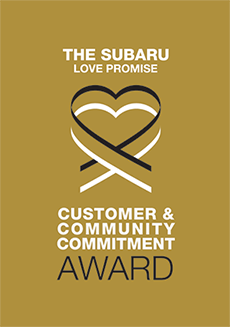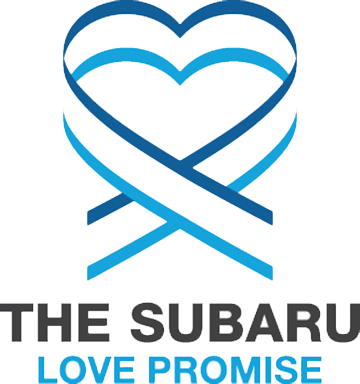 What is the Subaru Love Promise?
Subaru and our retailers believe in making the world a better place and the Subaru Love Promise is our vision of respecting all people. This is our commitment to show love and respect to our customers and to work to make a positive impact in the world.
How is Lacy Subaru dedicated locally to the Love Promise?
Our Love Promise can be seen in various partnerships with local charities and non-profits. We're grateful for the opportunity, not only to be a part of our community, but to serve it as well. Some of the local charities we're involved in are the Fort Nightly Club, Kiwanis Club, and Rotary Club. We're also quite involved with many community organizations.
Love Promise Stories from Lacy Subaru
Subaru and Lacy Subaru believe in making a positive impact on the communities in which we live and work. We uphold that belief through our Love Promise Community Commitment. Every month, we select inspiring stories from customers and partners from around our area who strive to support our collective commitment and feature them here
Precious - Wendy G
Through our partnership with RC Lacy Subaru, we hosted an adoption event on October 22. We brought eight dogs to 25 Maple Ave, Catskill, NY and by the end of the event, Everlasting Hope Animal Rescue and RC Lacy Subaru helped three dogs find their perfect, loving homes. Thanks to Nicole Lacy and Jarrod and Dylan from RC Lacy Subaru, we were able to hold a successful adoption event with a Halloween theme. Those who attended enjoyed seeing the pups in costume. One of the pets adopted in October was Precious, a beautiful young cat that was brought to our rescue from New Jersey. Precious had a routine surgery on a back leg which required that her activity be restricted and the leg bandaged while she healed. Unfortunately, her elderly owner was unable to comply with these important aftercare requirements, resulting in an infection which cost Precious her back right leg. After healing from her amputation, a concerned family member contacted us to find Precious the perfect home. She now lives with a very happy, loving woman with a big window to sit in. She truly is precious.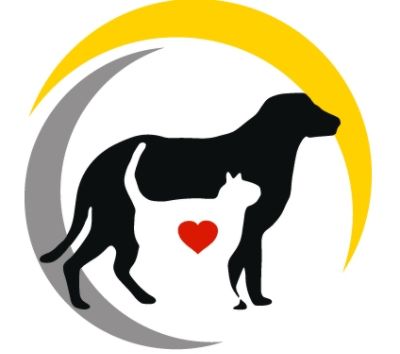 ---
For the Children - Kerry O
We can't thank RC Lacy Subaru enough! Every year they choose us to be their partner for Subaru loves learning. We have gained so many books and ideas from this program and the kids absolutely love it! They do so much for their community and this is just one reason why they're so great!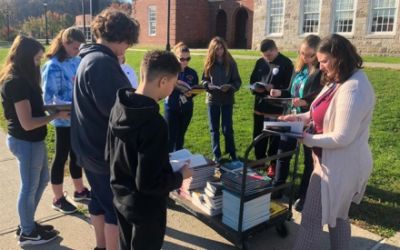 ---
Thank You - Maryanne K
The Greene County Woman's League is a Not For Profit Organization whose mission is to provide Greene County Cancer patients with assistance in paying medical expenses resulting from the diagnosis and treatment of cancer. With the Help of Lacy Subaru and the Share the Love Event we were able to continue to assist the cancer patients in Greene count. Every penny we raise goes to cancer patient support all our work is volunteer. Thank you Subaru and Lacy's.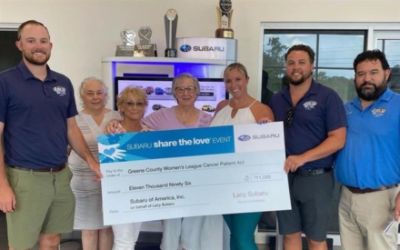 ---
For the love of Cooper - Wendy G
Cooper came to Everlasting Hope Animal Rescue in February 2021. He had been surrendered to a high-kill shelter in South Carolina, a three year old hound mix. It's very likely that he was tied in someone's backyard for most of his life. He was shy, quiet, kept his kennel spotless, got along well with other dogs, but just didn't get noticed. Due to his hound tendencies, a fenced yard was a must or an adopter committed to regular leash walks (did I mention that he didn't do so well on a leash?). Finally on October 30th, after over 8 months in rescue, a young couple came to meet 3 dogs. When it was Cooper's turn, it was obvious immediately that he absolutely loved the man. He sat at his feet and gazed up at his face. When the man went to retrieve something from his car, upon his return Cooper could not contain his excitement. We had never seen this side of him. The couple chose Cooper to adopt. They are avid walkers, live near a public trail, and spend a lot of time there with Cooper. The pictures they have sent show a very happy dog and his happy family. Sometimes an underdog just blends in and isn't noticed. No fancy colors, no tricks, just a hound waiting patiently for someone to see how sweet and gentle he is. Lacy Subaru is always there for us - adoption events, sharing our posts on social media, and several of their staff are adopters! We are very grateful to the Lacy family and Subaru for all they do for pets.
---
Lasting Memories - Leanna B
The support Lacy Subaru has provided to Everlasting Hope Animal Shelter goes beyond words. So many animals have been surrendered through the pandemic which is a hardship. But the charity they have provided has helped this shelter save so many animals, we are so pleased that local businesses are able to help others in the community. We are sure it hasn't been easy for anyone this year but the Lacy family stepped up again. They are active in the community helping so many organizations, thankfully they included the shelter, I believe one of Subaru's favorites! Thank you again Lacy Subaru for your support saving animals like our little Baby.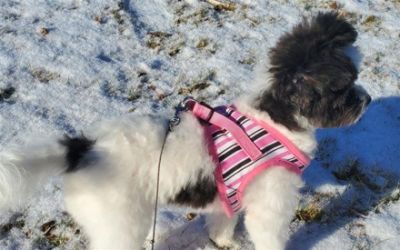 ---
Catskill and "Subaru Loves Learning" - Junait S
A few years ago, I worked as an Assistant Principal in a middle school. Our school subscribed to the "Subaru Loves Learning" initiative where they brought dozens of science books for our kids to use for their classes. Our local dealership RC Lacy Ford Lincoln and Subaru came to campus and brought a brand new Impreza and newly redesigned Crosstrek. While I was helping unload the boxes from the Crosstrek, I fell in love with the Crosstrek and ended up purchasing one from the dealership a few months later! I had such a great experience with the dealership that I recruited my family and friends to purchase their cars from there as well. To date, we just picked up our new Subaru Ascent to get our family safely around town. We are so thankful for Subaru and RC Lacy!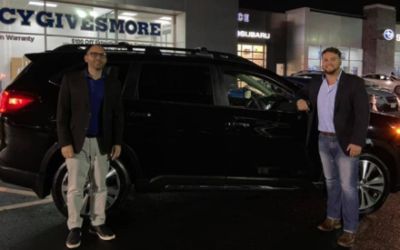 ---
Positive vibes during a pandemic - Nicole L
Covid-19 has affected everyone. During this unknown times we have tried to stay positive and keep the traditions and yearly fundraisers going. With 2019's Subaru Share the Love we were able to finally meet with Everlasting Hope Animal Rescue in September (yes we know a little later than usual) to present them with the check from the money raised! Seeing the smile on their faces once they received the check was well worth the wait! Everlasting Hope Animal Rescue has been able to continue to save and give animals a second chance because of events and fundraisers like Subaru Share the Love. Our story had such an impact, even Subaru of America shared our story for the country to see!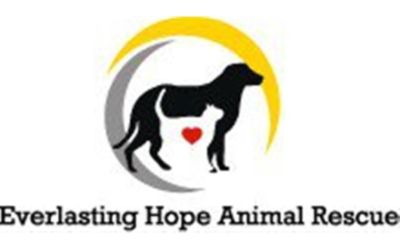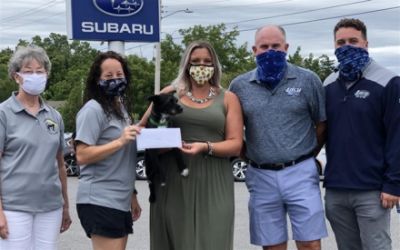 ---
Lacy's to the Rescue! - Wendy G
Thank you to RC Lacy Subaru and Subaru of America! We are honored to be chosen to be the recipient of your Share the Love Event. A portion of the sale of each Subaru sold by RC Lacy in 2018 was donated by Subaru of America to the non-profit of the dealer's choice. And RC Lacy added $2,500!! Eddie (the black and white terrier) was adopted from EHAR into the Lacy family last year. We are so honored to receive this donation which will have such a tremendous impact on our rescue. (In case you can't see the amount on the check, it is $12,481!!!) This money has gone towards is a new air conditioning and heating unit for our shelter, a new meet and greet fence so these animals have more room to get to know their furever home, as well as a trailer that has helped transport a lot of these animals to and from major adoption events. We are honored to be chosen once again for this year's Share the Love non-profit group and we can't thank the Lacy's enough!
---
Continuing to support the local youth! - Junait S
Special thanks to Lacy Subaru of Catskill, who on November 6 generously donated five boxes of award-winning science books to Catskill Middle School. Members of the dealership's Lacy family personally delivered the books to the front steps of our school, where a representative group of students, science and STEAM faculty, and administrators were waiting to unload them. The group eagerly dug through the boxes to check out the exciting titles inside. This is Lacy Subaru's third year making such a donation to CMS. According to Lacy, it stems from the dealership's commitment to the Subaru Love Promise, with the aim of making a positive impact in the world and making the pursuit of knowledge available to as many minds as possible. Both Subaru of America and the local Subaru dealer contribute funds into this program, which help pay for books and projects. This year's selection exemplifies outstanding and engaging science writing and illustration for young readers - real page turners! The donation was made possible by the Subaru Loves Learning Project in partnership with the Science Books & Films (SB&F) Project of the American Association for the Advancement of Science (AAAS). The donated titles were selected from the winners and finalists of the AAAS/Subaru SB&F Prize for Excellence in Science Books, an award that emphasizes the importance of science books for both information and enjoyment. CMS will distribute the books throughout the science and STEAM classrooms, where they will serve to enrich our curriculum and be available for students to enjoy on their own.
---
Shelter Support - Leonard E
With the help of Lacy Subaru the Everlasting Hope Animal Rescue many furry friends would not have had a chance and/or found their forever homes. Lacy has supported the shelter by assisting adoptions. The entire staff at Lacy Subaru is supportive and they love pets, young or old. In fact, their dealership is pet friendly and most visits you will see furry friends around. Thank you Lacy Subaru for your continued support.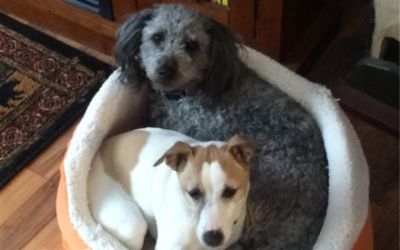 ---